2018 Wasatch Intermountain Expo Vendors & Exhibitors
The Wasatch Fly Tying & Fly Fishing Expo will have over 90 vendor booths. Come touch, feel, and play with some great gear. Talk with some premier outfitters and plan your next Fly Fishing adventure.
Exhibitors:
Here is a one page summary of last year's 2017 Expo.
Vendors
Please show Expo vendors and exhibitors your appreciation by visiting their shops, websites or take advantage of their services. Stop by their Expo booths and let them know how much you appreciate them taking the time to support our Expo, our fly fishing and fly tying obsessions. Besides, they are a bunch of great folks.
If you are interested in becoming a vendor, please send an email to: Scott Antonetti, Vendor Chair.
Adams Built
Alaska's Boardwalk Lodge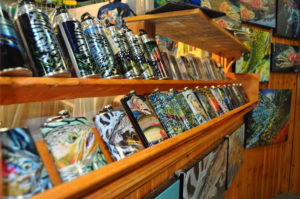 Allen Fly Fishing
Aquaz USA Inc
Blue Ribbon Fish Carvers
Brighton Anglers
Cabelas
Canyon Coolers
Colter Custom Rods
Cutthroat Leaders
Dan Bailey Fly Shop
Double Haul Fly Fishing Guides
Drift Lodge & Fly Shop
Duck Valley Indian Reservation
Fallriver Fly Rods
Fly Fishers International
Fincognito
Fish Heads Fly Shop
Fish On Energy
Fish Tech Outfitters
Flaming Gorge Resort
Flut Rod Company
Fly Fish Food
Freestone Designs
Global Travel Network
Goat Head Gear
Hardy Greys
Healing Waters Lodge/Lewis&Clark Expeditions
Henry's Fork Anglers
Hyde Drift Boats
Idaho Fishing Outfitters
Lucky Rods
Maxxon Outfitters
Moonlit Flyfishing/Dragontail Tenkara
North Fork Outfitters
Old Moe
Pioneer Anglers
Prince of Wales Eagle Lodge
Project Healing Waters
Rainy's Flies
Red Shed Fly Shop
Reel Recovery
RexFly
Riverstone Gallery
Rockagator
Rocky Mountain Nets
Snake River Nets
Solitary Angler Inc
Spinnerfall Guide Service
Stealth Craft
Stealth Fly Products
Tacky Flyfishing
TANUKI Tenkara Rods/Tenkara Tanuki
TravzArt
Trout Camp Lodge
Twin Territory
Umpqua Feather Merchants
USAC – Utah Stream Access Coalition
Utah DWR – Division of Wildlife Resources
Utah Chapter Trout Unlimited
Wasatch Angling Products
Wasatch Women's Fly Fishing Club
Western Rivers