Wasatch Expo Special Drawing Participants:
It is too bad that everyone can't win. However, we would like to thank all of you who participated in the first Wasatch Expo Special Drawing.  The drawing was held this morning and the winners have been notified by email or a phone call.
The winner of the Hyde Boat is Bob Dibblee. The Scadden Boat was won by Paul Blanch. The Hardy Rod & Reel was won by Roland Gazaille. The Maxxon Boat was won by Jared Winkler. The Outcast Float Tube was won by Justin Gillette.
Again, we thank you for your participation and hope your entire Wasatch Expo experience was a good one.  We have already started planning next years Expo and expect it to be better than ever.
1st Prize – Hyde Drift Boat, Deluxe Trailer, Oars and Anchor ($9,550.00 MSRP)
2nd Prize – Scadden Rampage Lo Pro R Pontoon Boat ($1,500.00 MSRP)
3rd Prize – Hardy Zephrus Fly Rod, Hardy Marquis reel ($1,000.00 MSRP)
4th Prize – Maxxon XPW 239 Inflatable Watercraft ($900.00 MSRP)
5th Prize – Outcast Fish Cat 5 Max Float Tube ($300.00 MSRP)

Entry Period has ended.. Stay tuned for announcement of winners…

Whether you buy one or a dozen, you are supporting the conservation and humanitarian efforts of Utah's Fly Fishing organizations. Since the Wasatch Expo is sponsored by chapters of Trout Unlimited, a 501(c)3 non-profit organization, your donation may be tax deductible.
First Prize is a brand new, Hyde Drift Boat & Trailer. 
This is the drift boat used by countless fishing guides all over the USA, Canada, South America, and Europe. It is nearly indestructible yet easy to row. It is great for fast flowing western rivers or more tranquil eastern rivers. The boat comes configured for two fly fishers front and back with the rowing seat in the middle. Besides being an ideal fishing craft, it is also a great family boat for relaxing trips down your local rivers. Many fishermen use these boats on lakes as well – equipping them with a small horsepower gas or electric motor (not included).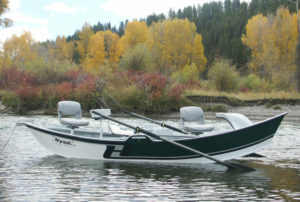 You can have your choice of "High Side" or "Low Side" models and choice of color. Boat is fully equipped and ready-to-fish with front, rower, and rear seating. Fly rod holders are built-in to both sides and will hold up to 4 fully assembled fly rods. Other features include bow storage, front walk around storage, rower seat storage, rear casting knee braces, a pair of counter balanced 9.5 foot Cataract oars, floor anchor assembly, rope, and 30 lb. anchor, and a deluxe trailer.
The winner can pick up the boat at Hyde's Shop in Idaho Falls, Idaho or Hyde Boats can arrange for shipping anywhere in the USA for a nominal cost. Winner can also specify additional boat features with Hyde Boats subject to the winner paying any extra cost. www.hydeoutdoors.com
Second Prize is a Dave Scadden Rampage Lo Pro R pontoon boat.
The Rampage R is last word in pontoon boat performance. It is a full size pontoon boat with a Class V whitewater rating, 1,300 pound capacity yet weighs under 40 pounds and fits in an airline specific 32x12x20 roller duffel.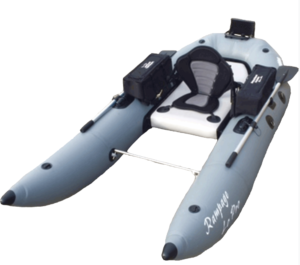 After countless hours of design work and engineering, the Rampage began to take shape. With specific goals in mind – size, shape, capacity, capability and performance, the boat of the future was soon on the water. Dave's sixteen year quest to produce a full line of self-contained, high performance, frameless pontoon boats has finally become reality. Starting with the new Escape and evolving into the Renegade, Challenger and now the Rampage.
The sport of pontoon boat fishing and play boating just became a whole lot simpler. Simply take the Rampage out of its roller duffel bag, inflate it in less than two minutes with a 12 volt pump and toss it in the water. It's that easy and you won't sacrifice performance in the process. Matter of fact, performance just went through the roof. Weighing in at less than half the weight of its framed brethren, the Rampage is a "Lamborghini" on the water. The rigidity gained through Dave's patented Unitrac pontoons create a platform that is twice as rigid as a framed double pontoon boat. Throw in the fact that this boat can be lifted with one hand and I think you catch the vision. It is effortless to row this boat. It literally runs circles around framed boats. Testing on some of the toughest water on the planet had proven just how good the new Rampage really is. This boat is five air chambers of rigidity that knifes through raging whitewater and laughs at four foot whitecaps. It is just at home on the bonefish flats of the Yucatan or the redfish flats of Aransas Pass Texas. The new Rampage redefines portability and high performance.
Double action hand pump, 2 side pockets, seat, aluminum oars and all components included. Specifications: Length: 10'6″; Width: 64″; Tube Diameter: 16″ Weight: 38 lbs.; Weight Capacity: 1300 lbs. Frame: Frameless Frame Material: Frameless Pontoons: Bladderless Oars: Alcoa 6061 T65 Oar Locks: Rack & Pinion Seat: F16 Anchor System. www.davescaddenpaddlesports.com
Third Prize Hardy Zephrus FWS 4-Piece 9', 5 wt Fly Rod & Hardy Marquis reel. 
It's important to be able to make a 40 foot cast to wary trout feeding at the head of a beaver pond, but it's also crucial to be able make short, precise casts to the fish you spot feeding in the pocket water just in front of you, and that's where the Hardy Zephrus FWS Fly Rod comes in. Replacing the award-wining Zenith series, the Zephrus is now lighter and more responsive, resulting in better line recovery time and effortless line pick up, which will enable you to effortlessly cast everything from tiny midge patterns to big golden stones and skwalas.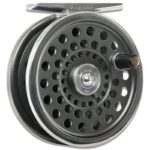 Made through Hardy's Sintrix manufacturing process, the Sintrix 440 blank is composed of an epoxy resin infused with nano silicone spheres combined with a high modulus carbon fiber material, resulting in a rod that's 60% stronger and 30% lighter than the Zenith. Being a part of the fresh water series (FWS), the Zephrus is fine-tuned for any discipline of trout fishing with weights and lengths available that will excel on everything from brushy creeks, tailwaters, and large lakes and rivers. The handle is composed of a 4A grade cork with a hardwood burl wood spacer and up-locking anodized reel seat, giving the rod a classic look and feel to complement its otherwise modern, fast-action feel. www.hardyfishing.com
Fourth Prize Maxxon XPW 239 Inflatable Watercraft.
Built from highly durable 1100 denier PVC, the XPW-239 is the total package for any water you find yourself on. Weighing in at only 38 pounds, this watercraft is small enough and light enough to backpack into those sport less traveled.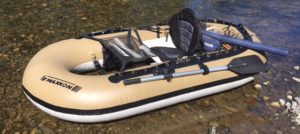 With 17 inch two chamber tubes, this water craft can grave any white water you have the skill to navigate. A solid cary capacity of just over 600. pounds together with the GTS also makes it the perfect exploration companion for extended adventures. www.maxxonoutfitters.com
Fifth Prize is an Outcast Fish Cat 5 Max Float Tube.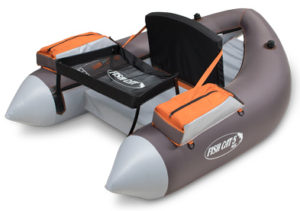 This craft is a perfect stillwater rig for those wanting a little more room. Enjoy a little extra space with the Outcast Fish Cat 5 Max Float Tube. Perfect for still-water fishing environments, the Fish Cat 5 Max is 10″ longer and 2″ wider than its cousin, the Fish Cat 4. Above-water seating keeps anglers high and dry, allowing for more comfort and longer, more accurate casting. Five-year manufacturer's warranty. 64″L x 47″W. Wt: 15.5 lbs. Wt. capacity: 300 www.outcastboats.com
This is an opportunity drawing and we appreciate your financial support for our various conservation, education and humanitarian causes. If you do not want to support these causes, you may participate in the drawing without purchasing a ticket. Contact us at Wasatch Expo, 1121 E. 3900 S, Building C, Suite 210, Salt Lake City, UT, 84124 . Limited to one entry per person with written request.