This Opportunity Drawing is for one of five prizes. There is a limited of 500 tickets priced at $50 each. To enter you must purchase via the Pay Pal button below.
Whether you buy one or a dozen, you are supporting the conservation and humanitarian efforts of Utah's Fly Fishing organizations. Since the Wasatch Expo is sponsored by chapters of Trout Unlimited, a 501(c)3 non-profit organization, your donation may be tax deductible.
This Opportunity Drawing has ended. Congratulations to the winners listed below. Enjoy your new boats. 
1st Prize: Jared Winkler – Stealthcraft Drift Boat, Deluxe Trailer, Oars and Anchor 
2nd Prize: Deken Loveless – Scadden Detonator Low Pro Pontoon Boat. 
3rd Prize: Lance Holter – Outcast Fish Cat Panther Pontoon Boat
4th Prize: Michael Starinchuck – Maxxon XPW 239 Inflatable Watercraft
First Prize is a brand new, Stealthcraft 14′ Ransom Drift Boat & Trailer. 
The 14′ Stealthcraft Ransom is the boat for the person that wants it all.  This boat is a whopping 56″ at the bottom giving it plenty of displacement to squeeze through the skinniest water.  At a stealthy 210 pounds, this boat is light enough to portage but big enough to go into any kind of water.  This boat can accommodate all of the full size boat features or can be as simple and light as our smaller boats.  The Stealthcraft Ransom is the fastest boat we sell.  This boat will coast effortlessly in the hardest white water conditions and still slip across the calmest water with ease.
Winner will arrange for shipping anywhere in the USA for a nominal cost. Winner can also specify additional boat features subject to the winner paying any extra cost. www.stealthcraftboats.com
Second Prize is a Dave Scadden Scadden Detonator Low Pro Pontoon Boat.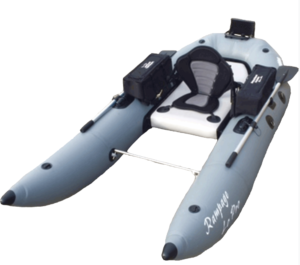 Dave Scadden unleashes over 30 years of evolution and progression in the form and function of his radical Detonator Lo Pro frameless pontoon craft. Simply put the Detonator is a Cardiac Canyon, Skykomish Sunrise, Renegade and Fuzion all rolled in to one wild new package. 
Details Specifications: Length: 9′ Width: 53′ Diameter: 12″ Weight: 26 lbs. Weight Capacity: 1000 lbs. Frame: Frameless Frame Material: Frameless Pontoons: Bladderless Oars: Alcoa 6061 T65 Oar Locks: Integrated Rack & Pinion Seat: Choice of padded hard plastic or portable EVA seat Integrated motor mount, integrated keel system and rigid inflatable floor Breakaway footrest bar system  Warranty: Lifetime www.davescaddenpaddlesports.com
Third Prize is a Outcast Fish Cat Panther Pontoon Boat.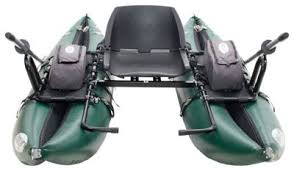 Whether you're controlling the drift in your favorite stream or paddling to the other end of the lake, reaching secluded honeyholes on Fish Cat Panther Pontoon is sure to help you approach your spot with big-cat-like stealth. 9-ft. quad pontoons are 10″ in dia. and have low profiles that hold steady in calm or moving waters. Constructed of 500/1,000-denier PVC with welded seams, four AIREcell vinyl bladders and Summit II valves that lock in air. Lightweight six-piece aluminum frame straps to the pontoons for unmatched rigidity. Anchor and trolling-motor mount system comes standard for more drift-control options. Five-year manufacturer's warranty. Includes two-piece 7-ft. oars. www.outcastboats.com
Fourth Prize Maxxon XPW 239 Inflatable Watercraft.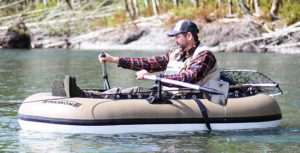 Built from highly durable 1100 denier PVC, the XPW-239 is the total package for any water you find yourself on. Weighing in at only 38 pounds, this watercraft is small enough and light enough to backpack into those sport less traveled.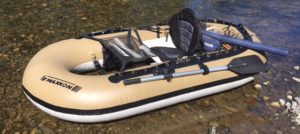 With 17 inch two chamber tubes, this water craft can grave any white water you have the skill to navigate. A solid cary capacity of just over 600. pounds together with the GTS also makes it the perfect exploration companion for extended adventures. www.maxxonoutfitters.com
 This is an opportunity drawing and we appreciate your financial support for our various conservation, education and humanitarian causes. If you do not want to support these causes, you may participate in the drawing without purchasing a ticket. Contact us at Wasatch Expo, 1121 E. 3900 S, Building C, Suite 210, Salt Lake City, UT, 84124 . Limited to one entry per person with written