This Opportunity Drawing is for one of four prizes. There is a limited of 500 tickets priced at $50 each. To enter you must purchase via the Pay Pal button below.
This drawing is available to anyone within the US. Need not to be present to win. Boat delivery can be worked out. 
Whether you buy one or a dozen, you are supporting the conservation and humanitarian efforts of Utah's Fly Fishing organizations. Since the Wasatch Expo is sponsored by chapters of Trout Unlimited, a 501(c)3 non-profit organization, your donation may be tax deductible.
Drawing will be held in May 2022 and winners will be notified and announced soon after. 
First Prize is a brand new, Stealthcraft 14′ Ransom Drift Boat & Trailer. 
The 14′ Stealthcraft Ransom is the boat for the person that wants it all.  This boat is a whopping 56″ at the bottom giving it plenty of displacement to squeeze through the skinniest water.  At a stealthy 210 pounds, this boat is light enough to portage but big enough to go into any kind of water.  This boat can accommodate all of the full size boat features or can be as simple and light as our smaller boats.  The Stealthcraft Ransom is the fastest boat we sell.  This boat will coast effortlessly in the hardest white water conditions and still slip across the calmest water with ease.
Winner will arrange for shipping anywhere in the USA for a nominal cost. Winner can also specify additional boat features subject to the winner paying any extra cost. www.stealthcraftboats.com
Second Prize is a 2021 Dave Scadden Zonker with keel system motor mount and side pockets. Fully Loaded!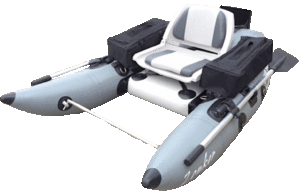 Dave Scadden's series frameless pontoon boats and float tubes rocked the pontoon boat industry nearly ten years ago. For Dave has taken the frameless concept to the next level with the introduction of his wild new Escape Series Zonker Float Tube Lo Pro X. The Zonker literally defies the wind. Its super low profile design allows you to stay out on the water long after other boats have been blown to shore. The new Zonker is loaded with key features that are designed to enhance your days on the water. Heavy duty oar system, breakaway footrest bar, integrated motor mount, built in keel system and Dave's exclusive rigid inflatable floor system which allows you to stand and sight fish are all engineered into a boat that weighs under 25 lbs.   The Zonker is 5 feet in length and 45 inches in width.  It will fit easily into any standard SUV, even the smallest SUV, the Subaru Outback without deflating.  This makes it extremely user-friendly!

Please specify seat type.  The cushioned plastic seat that comes with this boat is gray and white, not blue.  Photo is for reference only.

Comes with pump, 2 side pockets, seat, aluminum oars and all components.
Specifications: Length: 5′ Width: 45″ Diameter: 11″ Weight: 22 lbs. Weight Capacity: 500 lbs. Frame: Frameless Frame Material: Frameless Pontoons: Bladderless Oars: Alcoa 6061 T65 Oar Locks: Rack & Pinion Seat: F16 Anchor System: Optional Warranty: Lifetime
www.davescaddenpaddlesports.com
Third Prize Maxxon XPW 239 Inflatable Watercraft.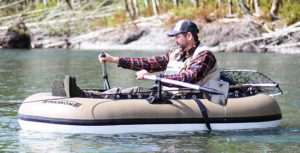 Built from highly durable 1100 denier PVC, the XPW-239 is the total package for any water you find yourself on. Weighing in at only 38 pounds, this watercraft is small enough and light enough to backpack into those sport less traveled.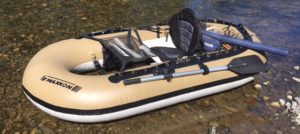 With 17 inch two chamber tubes, this water craft can grave any white water you have the skill to navigate. A solid cary capacity of just over 600. pounds together with the GTS also makes it the perfect exploration companion for extended adventures. www.maxxonoutfitters.com
 This is an opportunity drawing and we appreciate your financial support for our various conservation, education and humanitarian causes. If you do not want to support these causes, you may participate in the drawing without purchasing a ticket. Contact us at Wasatch Expo, 1121 E. 3900 S, Building C, Suite 210, Salt Lake City, UT, 84124 . Limited to one entry per person with written