Lance Egan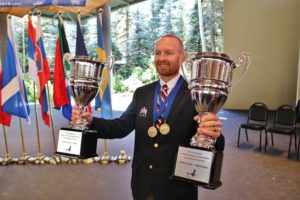 Born in Salt Lake City, Utah, Lance Egan has been fly fishing since age 12. Although Lance comes from a non-fishing family, fish have intrigued him since he was too young to talk. When he was a baby, and not sleeping through the night, Lance's parents would prop him up in front of a large fish tank where he would abruptly stop crying and watch the fish until falling back to sleep. He has been completely obsessed ever since. When Lance was old enough to drive, he was off fishing every chance he could get—fishing before and after work, after school and every day off. Today he fishes an average of 150 days per year and never gets tired of wetting a line. He has made a career of fly fishing. employed at Fly Fish Food, he currently resides in Lehi, Utah, with his wife Autumn and son Mikey, just minutes away from many lakes and streams. He is a pro staff member of Ross Reels and Scientific Anglers and is an Umpqua Feather Merchants Signature Fly Designer. Lance also tests prototype fishing gear for Simms Fishing Products.
Instagram @lanceeganflyfishing
Facebook https://www.facebook.com/1094757509
Work — http://www.flyfishfood.com/
Brian Chan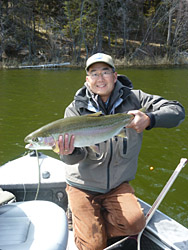 Brian has been an avid fly fisher for over the past 35 years with a passion for fishing trout in stillwaters.  Complimenting his interest in fly fishing was a 30+ year career as a professional fisheries biologist managing Stillwater and river trout fisheries in British Columbia.  Brian has written feature articles for all the major Fly Fishing Magazines as well as hosted or co-hosted many TV fishing shows including Sport Fishing on the Fly and the New Fly Fisher.  Brian is an ambassador for numerous Fly Fishing product manufacturers including Scientific Anglers, Sage and Islander Reels.  When not fishing or guiding on a favorite Stillwater you will find Brian wading a local river or stream chasing steelhead, salmon or trout.
http://facebook.com/Brian.Chan22
Instagram : BrianChanflyfishing
Clark "Cheech" Pierce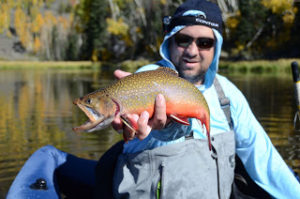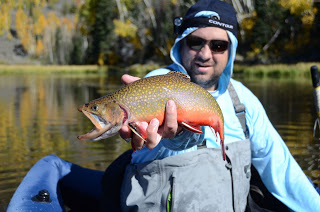 Clark (Cheech) is a creative fly tier and angler living in Salt Lake City, Utah. Clark ties custom flies to target all species. However, his passion is throwing big meaty streamers for trout, as well as chasing large- and smallmouth bass. Having grown up in a household where art was strongly encouraged, Clark focused on feathers and fur as a primary medium beginning in 2001.  Clark is an innovator and has created popular patterns such as the Cheech Leech, the Grumpy Frumpy, and the Unsinkabeetle. Clark has been featured in This Is Fly magazine and has been published in Southwest Flyfishing. His flies have also been featured in Fly Tyer Magazine and American Angler magazine.
Recently, Clark co-founded the website Fly Fish Food with like-minded fly tier and creator Curtis Fry. Together they create video fly tutorials, review materials, and tools, and generally rant about fly tying and fishing.
When Clark isn't tying or fishing he is usually pestering his wife and three kids and inadvertently booby-trapping the house with stray hooks, as well as a thin layer of marabou scraps and tinsel.
Devin Olsen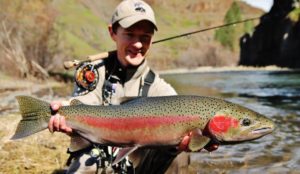 I will never forget my first day where I caught a cutthroat on an ant in the first meadow of the famed Slough Creek in Yellowstone on a hand me down fiberglass 7 weight! Though I'd been fishing with hardware since I was a toddler, that day started an addiction to fly fishing that I can't seem to shake. When I fished against Lance Egan and Ryan Barnes in the former Outdoor Life Network's Fly Fishing Master's in 2004, I knew I had to find a way to compete in the sport I loved. It was serendipitous that I worked with both these anglers a year later after they had made Fly Fishing Team USA. I fished in my first regional and made the team myself in 2006.
The ensuing years have been more educational than I could have ever imagined and I'm as hopelessly obsessed with fly fishing today as I've ever been. This obsession has brought dedication, which has helped me to have competitive success domestically and abroad. The year 2017 marked my 9th consecutive berth as an angler for Fly Fishing Team USA in the 37th Fips Mouche World Fly Fishing Championships in Slovakia. In 2015 I was incredibly fortunate to finish with the individual bronze medal and even more fortunate to have been a part of the squad that won the first team medal (a silver) for the USA at the world fly fishing championship in Bosnia. In 2016 we followed that feat with a team bronze in Vail, Colorado.
Fly fishing competitions have exposed me to tactics and techniques from incredible teammates and fellow fly anglers from across the globe. Away from competitive fishing, fish have sculpted my professional life as well. I hold a bachelor's degree in ecology and a master's degree in fisheries science and spent 3 years working as a fisheries biologist before taking on Tactical Fly Fisher as a full-time business in 2017.
https://www.facebook.com/tacticalflyfisher/
https://www.instagram.com/tactical_flyfisher/
Don Ordes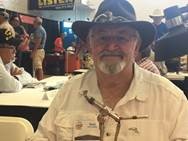 A few things shaped Don's initial approach to fly tying and fly fishing:
First, being self-taught in an area with ZERO fly fishing culture 55 years ago, Don didn't know any 'rules', or that there even were rules.
Second, living in the New Orleans culture, 'the box' was just a guide, and free-thinking outside the box was the culture.
And third, a family background deep in art and humor.
So feathers from pillows and thread and tools from mom's sewing bench went into fly creations 'hand-tied' without a vise, bobbins, or typical tying tools. A converted cane-pole fly-rod with a bait-caster reel loaded with a clothesline and a mono leader tipped with one of the pillow-feather flies was tossed to sunfish at a local pond with zero casting prowess.  A fly lasted maybe for one fish.  He wished he had head cement. But Don was hooked. Today Don's tying and fly-fishing is a result of a free-from-constraints approach, but also a love for the craft, plus some showmanship thrown in.  He likes fly-fishing extremes, and has caught sailfish, marlin, and giant dorado on his own fly creations, and ties a combination of practical and whimsical flies (Fantasy Flies) for art and collectibles.  If fly-tying was compared to pool, Don would be a trick-shot artist (which he was at one time).
Don's 'Baits Hotel' (home of psycho-flies) is a hoot for anyone with a good sense of humor, appreciation of art, and who can let go of practicality for a half hour show.  On the other hand, his 'Rope-dubbing' technique is a fast and simple method of dubbing that adapts itself to any dubbing and any size hook, without the use of tools, wax, loops or split threads. Watching it being done properly is the best way to learn it in its limitless applications, then with a little practice one can master it. From mole hair to buffalo, ice dub to syn-seal, any dubbing can be perfectly applied, even in different styles, creating simple, segmented, durable flies across the whole range of tying.
Don has been tying at shows across the country since the early 80's, and at a few, he's been a regular for decades.  He sees many of his creations adapted by others in Google searches and enjoys being an innovator that opens new doors for others. He's been featured in books, magazines, and newspapers.  He's even a veteran of the Dutch International FlyFair in Holland. Don's not a glory-hound though, as his favorite experiences have been interacting with the special people he's met at shows over the years, both public and private.
Duane Redford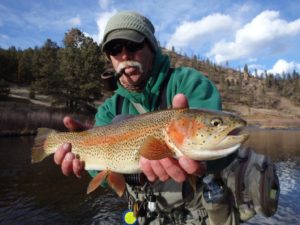 Duane Redford, a professional fly fishing guide, spends the majority of his days guiding on the South Platte River near Deckers, Colorado and on the Eagle River near Minturn, Colorado. He began his fly fishing career fishing the Rocky Mountain West and has been toting a fly rod for better than four decades.
As a retired teacher and coach, Duane has a unique, systematic approach to the river that he has used as the basis of his guiding for the last twelve years.  This systematic approach, derived from guiding countless days on highly pressured, technical waters, has been refined over time and is easily understood.
Duane is a sought after national speaker, pro-staff lead for 8 Rivers Fly Rods, a consultant for Hookhead apparel, a signature tier for Montana Fly Company, and the author of The Fly Fishers' Playbook, and Hidden in Plain View.
When he's not guiding, Duane spends his time teaching fly fishing classes, blogging, tying, speaking, and writing.  When he's not teaching, writing or guiding, you'll find him on the river.
Facebook —  https://m.facebook.com/TheFlyFishersPlaybook/
Instagram @flyfishersplaybook
Web site — duaneredford.com
Email — lonearcherguideservice@yahoo.com
Mickey Anderson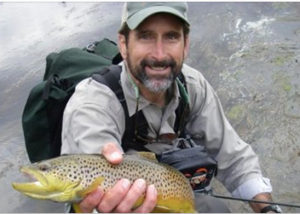 Mickey started fly fishing in 1974 and started fly tying a year later.  A few years after that he began teaching fly tying and continues to teach today. He started working at Angler's Inn in January 1980 where he taught fly fishing as well as assisting customers with their equipment needs. He is now a co-owner Fish Tech Outfitters in Salt Lake City.  Mickey enjoys fishing for Pike as well as trout.  He held the world record for a Pike on a fly from in the 12 lb. line class from 1983 – 1988.
In addition to fishing and tying flies, he has been instrumental in product design for several companies. At one point in his career, he was the head soft goods designer for the Rising Company and on their Pro Staff.  He won the Best of Show Award for Chest Packs and Vests at the International Fly Fishing Show and twice for the Flask Pack. He has been a Signature Fly designer for Umpqua Feather merchants. He was also part of the Cortland Line Company Pro Staff where he helped with the casting and fishing for the Trout Boss fly line. He has also appeared on numerous local outdoor TV programs in the Salt Lake City market. He authored the first fly tying CD, Amiable Instruction.  He helped with the startup of the William Joseph Co as a consultant by designing the first Mini-Chest Pack.
Mickey was the first instructor in Utah certified by the Fly Fishing Federation as a fly-casting instructor and is the longest registered instructor in Utah.  He has taught fly casting for the Sage Rod Company in Utah, Idaho and Montana. He is also a member of Sage Rod Company Elite Pro Staff.  He is a nationally certified instructor for The Becoming an Outdoors Woman (BOW) Program and an instructor for Women in the Outdoors (WITO) program. He is the fly fishing advisor for four local Utah high schools – Alta, Bingham, Brighton and Hillcrest.  He was awarded the Stonefly Society's Presidents Award in 2000 and the 'Gean Snow' award in 2017.
Instagram – @fishingmickey
Curtis Fry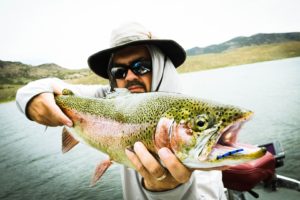 Curtis Fry is an OCD fly tyer living along the Wasatch Mountains in Utah. He grew up in Western Idaho and the high deserts of Eastern Oregon fishing for bass, trout, carp, catfish, whitefish and anything else that would play along. One of his favorite alpine lakes housed some giant-black-ant-eating high mountain brook trout, which served as the catalyst for his tying obsession. He learned to tie flies while in high school in the 80's and has been tying ever since.
Together with Clark "Cheech" Pierce, Curtis runs the popular website Fly Fish Food, as well as one of the more popular fly tying tutorial channels on Youtube, and other social media outlets. Much of his time is spent chasing bugs and other critters around streams and lakes, constantly working on new or improved fly patterns, all the while trying to balance the aforementioned with his day job as a computer/business nerd and his most important job as a dad and husband to a very understanding and awesome wife.
George Daniel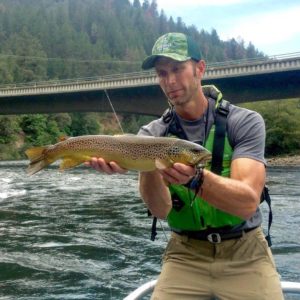 George Daniel began fly fishing at age six in Potter County, Pennsylvania. Growing up along a native brook trout fishery designated as a "kids only section" and, being the only kid in the village who fished, George was able to fly fish and practice a lot, so he developed a true passion for it. Through his early teens, much of his fly fishing knowledge was self-taught. However, when George was 14, his family relocated to central Pennsylvania, where, at a local fly shop, he found himself talking to his fly fishing idol, Joe Humphreys. Joe kindly took George under his wing and began providing him with his first, formalized fly fishing instruction. When George was just 16-years-old, Joe began to provide instruction on all levels, e.g. the basic cast to advanced nymphing casts. George credits Joe for the bulk of his knowledge, but also graciously acknowledges many national and international fly fishing professionals who have worked with him during the past.
When George went off to a university, he didn't stray very far from the lovely streams of Pennsylvania. He attended Lock Haven University, where he earned a degree in natural resource management.  Later, George had an opportunity to try out for Fly Fishing Team USA in Bend, Oregon. After qualifying for the team, George had the opportunity to compete in six World Fly Fishing Championships, coach both the US Youth Team and Fly Fishing Team USA in four World Championships.  During this time, George has had an opportunity to travel the globe and learn from many of the best anglers in the world. George is a two-time US National Fly Fishing Champion and was ranked as high as 5th in the world. George is the former head coach for Fly Fishing Team USA. George also spent two years coaching the US Youth Fly Fishing Team
George's true passion is in fly fishing education. He appears at clubs and fly fishing shows around the country, where he conducts lectures and seminars. He also logs more than 280 days a year on trout waters near and far. George and his wife Amidea bought and restored an old home near his favorite trout stream, and it is here where they spend many hours with their two children walking along the banks, throwing stones and sometimes even catching a fish.
George is not only the author of two highly regarded and best-selling books, he has also published articles in Fly Fisherman, American Angler, and Fly Tyer magazines.  George is a pro-staffer for a number of fly fishing companies including Orvis, Tacky Fly Boxes, FlyCraft Boats, Regal Vises, Competitive Angler Tying Supplies, Golden Trout Lanyards, and Loon. George is a fly designer and brand ambassador for Holly Flies.
Instagram  https://www.instagram.com/gdflyfish55/
facebook  https://www.facebook.com/george.daniel.35
Eddie Robinson (none submitted)
Kelly Glissmeyer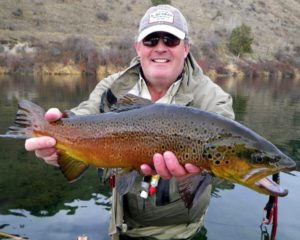 Kelly G. Glissmeyer has been involved in fly fishing and fly tying for more than four decades. He began his passion while living in West Yellowstone, MT and has never looked back. An accomplished demo fly tier with many effective patterns to his credit, focusing on spring creek flies for wary trout; he began seeking out and fishing spring creeks to avoid the crowds on many western rivers. He participates in numerous fly tying expos, fairs, and conclaves throughout the western United States, as well as being a featured speaker and presenter at many western fly fishing venues. In addition to fishing and tying, Mr. Glissmeyer has numerous magazine articles to his credit along with the photos for those articles and is the past Fly Tying Editor for the International Federation of Fly Fishers (IFFF) membership publication Flyfisher Magazine. He has currently entered the Fly Tyer magazine realm with his first published article with them in the recent September issue dealing with an articulated dry stonefly pattern. As a fly tier, he has been featured in several western fly pattern books such as Bruce Staples' Flies for the Greater Yellowstone Area. He is also on the Pro Staff of LOOP U.S.A., KAST Gear, Moonlit Flies, and Simms.
Luong Tam
Luong Tam is the founder of Tenkara Tanuki and a Tenkara rod designer/builder, who was trained as engineer/designer. Luong has been fly fishing since the 90's but for the last few years, he became hooked on Tenkara and started his company Tenkara Tanuki. He attends Tenkara schools every year taught by a Japanese master. Luong has developed Tenkara fly fishing that derives from fly fishing methods but made simpler and more efficient.
facebook: https://www.facebook.com/TenkaraTanuki/
Twitter: https://twitter.com/TenkaraTanuki/ or @TenkaraTanuki
Instagram: TenkaraTanuki
website: www.TenkaraTanuki.com
Youtube Channel : Tenkara Tanuki
Pintrest : tenkara tanuki
Marty Howard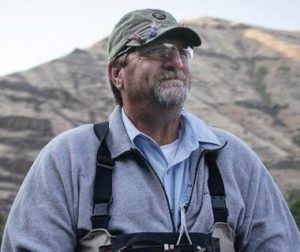 Marty's introduction to the art of fly fishing occurred at age 14, while being guided on the Teton River in Idaho. With fly rod in hand, Marty had his first real taste of casting a fly. Standing in the front of a raft, fishing hoppers with a whole lot of willing Cutthroat, was all it took to spark a desire to learn how to fly fish.
By age 21, he was fully engaged in the sport. His wife gave him his first graphite fly rod in the form of a rod building kit. The J. K. Fisher blank was top of the line, and quickly replaced the Eagle Claw fiber glass rod he had been using.  Fly tying became an integral part of his fly fishing experience as well.
Marty's passion for fly fishing continued to grow as he spent time on the water.  Being self-taught, Marty searched for greater understanding by procuring as much reading material as possible. In 1983, Marty broke into the fly fishing industry by taking employment with Outdoor Sports, a sporting goods retailer. An unforeseen occurrence, forced Marty back into the job market.  Fulfilling a lifelong dream, Marty with the help of his parents, opened Spinner Fall Fly Shop in 1985. Along with establishing and managing the fly shop, Marty increased his rod building activities and named the entity M. Howard Rod Company.  During these early years, Ralf Moon from St. Anthony, Idaho, took Marty under his wing and taught him how to build bamboo fly rods.
Shortly after opening the fly shop, Marty secured a permit to guide Utah's Green River below Flaming Gorge. Being one of the first fly fishing guides on the Green proved to be advantageous in many ways. An opportunity to work on a film production with Jim Teeny and ESPN Sports on the Deschutes River in Oregon, launched a film making adventure. Teamed with Reese Almond Productions, he went to work on productions for TV. He also has a number of tying DVDs, from Tying Guide Flies to Steelhead Flies – Tying the Classics. A fly tying book co-authored with Dec Hogan is on the horizon and near completion.
Marty's favorite pastime is swinging flies for steelhead but he still enjoys presenting small dry flies to finicky trout in small streams. He has completed Utah's Cutthroat Slam twice and though he gets to travel and fish all over the world, his love for fishing small streams in Utah is as strong today as it was when he started fly fishing. He has been very fortunate to have experienced fly fishing at its best in both fresh and salt water, but is still in search of the ghost fish that haunts his dreams.
Most importantly, Marty has been involved with the local fly fishing clubs throughout his fly fishing experience. Marty served as the vice president for the Stonefly Society for two years in the mid 80s. His love for fly fishing can be seen in his efforts to perpetuate the sport. He has the experience and expertise to instruct fly tying, fly casting and rod building as well as every other aspect of the sport. Marty's slide show presentations bring out the pure essence of fly fishing. Marty has always done whatever he can to share his knowledge and skill to help anyone interested in fly fishing feel the pure joy of the sport. Marty is one of Utah's true fly fishing advocates and is a member of the Utah Fly Fishing Hall of Fame.
facebook.com/martyohoward@msn.com
Mary Ann Dozer
Mary Ann Dozer fell in love with fish, not while casting from a riverbank, but while scuba diving in the Caribbean and South Pacific with her husband, Dave. Her first fly fishing experience was in 1995 in Yellowstone Park and her passion for the sport took hold. When her high tech career wound down after 20 years, Mary Ann wanted to do something different with her life. The answer was easy: pursue her passion for fly fishing and share it with others.
Mary Ann has been teaching & guiding for over 10 years in Oregon and Idaho, logging an average of 150 days/year on the water.  She guides full-time in Central Oregon for the Fly Fishers Place in Sisters, Oregon.
Mary Ann loves to introduce new anglers to fly fishing or take anglers' skill to that next level. Whether this is via casting lesson, a day in a classroom, or a day on the water. Mary Ann considers casting an art form. She is adept at combining her responsibilities as a guide and teacher of our sport. She is known for her enthusiasm and expertise as a teacher.
Mary Ann is an International Federation of Fly Fishers (IFFF), Master Casting Instructor and is pursuing a Two Hand Casting Certification. She is a member of the Casting Board of Governors. Her love and finesse of casting have put her on the Winston Pro-Staff Team.
Mary Ann believes in giving back to motivate others to pursue their interest in fly fishing for the International Federation of Fly Fishers at the local, state & national level. She leads the IFFF Women's Program and has also co-chaired Education and Publicity for the Northwest Fly Fishing Expo for the last ten years. She is the Monthly Programs Chair for the Central Oregon Fly Fishers Club. Mary Ann is deeply committed to supporting Casting for Recovery and has volunteered for events across Washington, Oregon, and Idaho for fifteen years.
Mary Ann is building a series of educational videos for fly casting and fishing. You can view her videos and learn more about her on her website at www.flyfishingpursuits.org or by phone: 541 760 6057 or email: flyfishingpursuits@gmail.com
Molly Semenik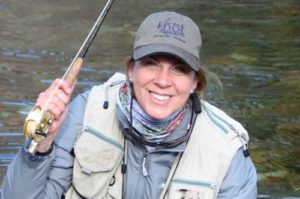 Molly started teaching fly-casting back in the 80's after she left the Midwest and landed in Utah.  In 2000, Molly and her family moved to Livingston Montana where she began a 15-year guiding/outfitting career.  During this time, Molly started Tie The Knot Fly Fishing, became an outfitter and Master Certified Casting Instructor through the International Federation of Fly Fishers now the Fly Fishers International.   Another move took her further west to Birch Bay Washington.  A Two-Handed fly rod is now her go to method in the PNW.  Molly is currently on the Casting Board of Governors and Board of Directors of the FFI.
Along with casting instruction and women's destination travel, Molly gives programs on her book titled 25 Best Off-the-Beaten Path Montana Fly Fishing Streams by Stonefly Press (2017 Bronze Award winner through the Independent Publisher Book Award).
Facebook — molly semenik
mollysemenik@tietheknotflyfishing.com
Nick Teynor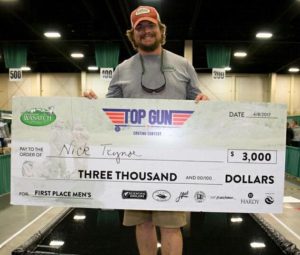 A dedicated fish-bum, and teacher of all things fly-fishing, Nick comes from a self-educated background. He taught himself how to cast and fish from a young age through grit, determination, and countless hours on the lawn and water. He loves to share his knowledge with anyone interested in learning to become a better angler and caster. Nick embraces all aspects of fly-fishing: Dries, Nymphs, Streamers-as long as there is potential for a fish to be on the end of his line, he will fish it. "Fly-fishing has so many fun and effective tactics. In this day and age, limiting yourself to one style of fishing really inhibits your ability to become a better angler. The best fishermen out there are the ones who can adapt to any situation, so it pays to be that guy/gal willing to learn new things. Let's face it, the fish aren't getting any dumber, and learning a new tactic that will benefit you is ALWAYS worth doing!" His interest in teaching motivated him to become a Certified Fly-Casting Instructor via the Federation of Flyfishers, and the "head-master" of Western Rivers fishing classes and fly-casting clinics for the past 12 years. Any water with fish willing to eat a fly is good water for him, but he holds a very special spot in his heart for the Westslope Cutthroat and diva Rainbows of the Harriman Ranch.
Pat Dorsey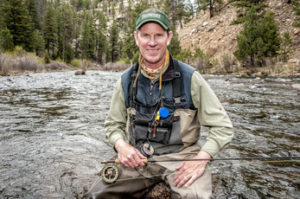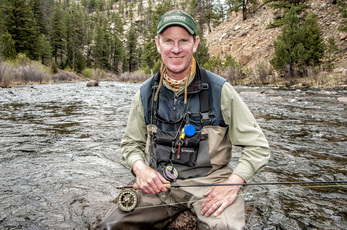 A native of Colorado, Pat Dorsey has been guiding for over 25 years. He spends approximately two hundred days a year on the water, a combination of guiding customers, hosting trips, and personal days on the water.
Pat is the head guide and co-owner of the Blue Quill Angler fly shop in Evergreen, Colorado. He oversees and trains more than 25 guides, setting the standard for integrity and professionalism in the Blue Quill Angler guide operation. Dorsey also, maintains an online stream report that monitors stream flows and conditions for the Blue, Colorado, South Platte (Cheesman, Deckers, Spinney Mountain Ranch, and Elevenmile Canyon), North Fork of the South Platte, and Williams Fork rivers.
Pat Dorsey is a Simms Ambassador, a member of the Sage Elite Pro Team, Orvis Pro Team Member, Yeti Pro staff, and Scientific Anglers pro staff. Pat Dorsey is the Southwest Field Editor for Fly Fisherman Magazine.
In 2009 Pat Dorsey authored Fly Fishing Tailwaters, a comprehensive book on how to fish tailwater fisheries. In 2010 a companion book to Fly Fishing Tailwaters hit the shelves, Tying and Fishing Tailwater Flies, which is jam-packed with how to tie Pat Dorsey's favorite "guide flies". This book includes 500 step-by-step tutorials, as well as, helpful tips and illustrations on how to rig and fish them. His latest book is Colorado Guide Flies, which was released in 2015.  It features tips from the state's best guides and includes approximately 600 proven guide flies with recipes.
Phil Rowley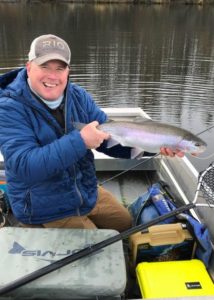 Phil has been fly fishing for over 30 years. His love of fly fishing has taken him across North America pursuing trout, Atlantic and Pacific salmon, char, pike, walleye and numerous other species on the fly. But Phil is probably best known for his stillwater exploits.
A former commercial fly tier, Phil has written for almost every major fly fishing publication in North America. He has authored three books and numerous feature articles and has been the fly tying columnist for BC Outdoors Magazine for over 10 years. Phil's first book Fly Patterns for Stillwaters is a best seller. In 2014, Phil was the proud recipient of a Life Time Achievement Award from Fly Tyer magazine. Most recently, Phil was honored to receive the 2017 Jean Guy Cote award for his contribution to Canadian fly tying.
In addition to his writing, Phil has five instructional DVD's. In 2007, Phil was a member of the gold medal winning team at the Canadian Fly Fishing Championships.
When he isn't on the water, Phil travels North America performing at outdoor shows, providing seminars, speaking to fly clubs, conducting fly-fishing schools and fly tying clinics. Phil also provides instructional stillwater guiding on the lakes located a short distance from his Edmonton area home.
Phil has appeared on a number of T.V. shows including, BC Outdoors Sports Fishing, Sports Fishing Adventures, The New Fly Fisher, Sport Fishing B.C., Fishing Alberta, Let's Go Outdoors and Fishing with Shelly and Courtney.
Make a point of visiting or following Phil on-line at, www.flycraftanqlinq.com or www.stillwaterflyfishingstore.com and through his social media channels, You Tube, Facebook, Twitter, and Instagram.
Websites:  www.flycraftangling.com
Phil & Brian's Stillwater Fly Fishing Store: www.stillwaterflyfishingstore.com
Social Media
Facebook: https://www.facebook.com/PhilRowleyFlyFishing/
Instagram: @flycraftphil
Twitter: @FlycraftPhil
Phil & Brian's Stillwater Fly Fishing App: https://www.facebook.com/StillwaterFlyFishingandTying/
Todd Lanning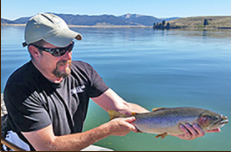 Todd was born and raised in Idaho to a hard-working family of anglers. Some of his earliest memories were catching trout with his grandfather in and around the Cascade area of Idaho. He also enjoyed tagging along with his father on the Middle Fork of the Boise River. With his family background, he was forever hooked on fly fishing.
From an early age he knew there were two things he wanted to do; follow in his granddad's footsteps and be a United States Marine and then become a fly fishing guide. From 1991 to 1995 he held the title of United States Marine and, after being honorably discharged in 1996, he moved to Ketchum Idaho and went to work for Headwaters Fly Fishing in Ketchum Idaho. Later he moved to Idaho Falls where he worked for a local outfitter and later he managed the fishing department at Sportsman's Warehouse. When Shaun Lawson was the manager/outfitter at South Fork Outfitters, he hired Todd as his assistant manager. Todd moved up after Shaun relocated to Bozeman as a Program Director for Yellow Dog Fly Fishing.
Through a stroke of fortune, Todd joined our Henry's Fork Anglers management team. He has two sons Grant and Grayson and a daughter Georgia
Wes Johnson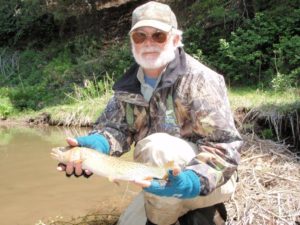 I began fly tying when I was about 13-years old and sold many of my patterns to local sporting goods stores in southern California where I grew up.  After 22+ years as a weatherman in the USAF, my family and I settled in Utah and my fly tying and fly fishing really took off.  I have occupied positions with Utah Wildlife Resources and Utah State Parks, plus many years as a natural resource consultant to USFS, BLM, AEC, and Homeland Security.
I started our local TU chapter, Weber Basin Anglers, became Chair of the Utah Council of TU, eventually served on the TU Board of Directors as one of the first Grassroots Trustees members.  I also laid the ground work for the Blue Ribbon Fishery Advisory Council and the Utah Anglers Coalition.  I served as chairman of the BRFAC for over six years and chaired the UAC for quite a few years.  On occasion, I have guided a few anglers, including Governor Leavitt and some congressional and state staff representatives.
I have taught fly tying in the Ogden area, written articles on fly fishing and fly tying for the Ogden Standard-Examiner.  I have developed a few fly patterns that have been very successful at catching trout, trees and brush.  These include my Yellow Elk-hair Caddis, my water boatman, and an adult damsel that consistently works.  My favorite waters are the Weber River and the streams and lakes on the north slope of the Uinta Mountains.
Facebook address is Wes.Johnson.501  or simply Wes Johnson
e-mails:  jwes3@msn.com  or  utahtu@gmail.com
21.  Kirk Nichols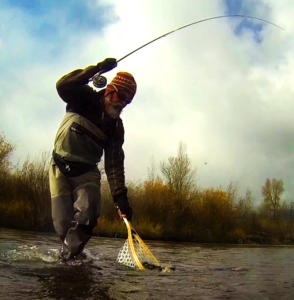 Kirk Nichols has been guiding clients; adults, college students, and scout groups on white-water rivers, through desert canyons, backpacking and fly fishing among mountains and streams, and instructing mountaineering trips from Alaska to the highest peaks of the Andes since the early '70s. He is a professor of Outdoor Recreation Studies for the University of Utah and is in his forth decade as a NOLS instructor.
Enjoy now, this wrap-up video of my Big Picture on Small Mountain Streams presentation for this year's Wasatch Intermountain Fly-Tying and Fly-Fishing Expo: https://youtu.be/FkudVVvEK0M