Utah Fly Fishing Hall of Fame Banquet and Fundraiser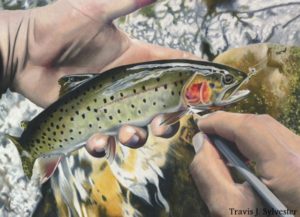 Created in 2016 the Utah Fly Fishing Hall of Fame Banquet was built to honor men and women who have made major contributions to fly fishing in Utah.
Their contributions have taken many forms from conservation projects, political activism to protect the resources, environmental projects, formation of organizations such as Trout Unlimited (TU) and Federation of Fly Fishers (FFF) Chapters to promotion of fly fishing, to enhancing the fishing experience in Utah, promotion of youth fishing education programs, and many more kinds of activities.
2017 Fly Fishing Hall of Fame Banquet and Fundraiser Details
This year's Fly Fishing Hall of Fame Banquet is scheduled for November 16, 2017, at "This is the Place". The event begins at 6 PM with a social hour followed by dinner. We will have the same great caterer as last year and, if you attended, you know it was great food! There will be both a silent and live auction, so come and enjoy.
Brett Prettyman from Trout Unlimited will be our Master of Ceremonies. Fly fishing comedian Hank Patterson will be our special guest and will be inducting our first ever Guide of the Year. He will also be our auctioneer for the evening's Live Auction.
Jack Dennis will induct the Hall of Fame winners. Eleven Utah Fly Fishermen have been nominated four 2017 and four will be inducted. Your votes will determine who we induct. You can cast your vote by clicking on the "Vote Now" button below.
Proceeds from the 2017 banquet will benefit Trout in the Classroom . This program introduces Utah's youth to the life cycle of the trout and other conservation topics. TU chapters in Utah are sponsoring 37 classrooms. In cooperation with the Utah DNR, we put about 200 trout eggs into an aquarium in their classroom provided by the sponsoring TU chapter. The students study and care for the trout from birth until they are fingerlings about 2 inches long. They are then released in a local pond.
Banquet tickets are now available for $65. Your support of this event may be tax deductible as TU is a 501(c)3 organization.
2016 Fly Fishing Hall of Fame Banquet and Fundraiser Highlights
2016 Hall of Fame selections: Robert Dibblee, Tom Doxey, Emmett Heath, and Gean Snow.
The contributions of the candidates have been performed over their lifetime and all have immensely benefited the sport of fly fishing in Utah. All Utah TU and FFF chapters along with Great Western Fly Fishers had the opportunity to nominate up to three persons for this award. Eleven candidates were nominated.