Instructor: Kelly Glissmeyer
Cost $25
Description: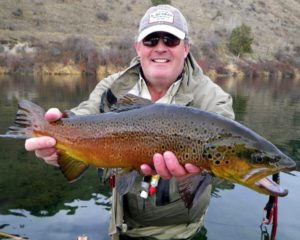 Just over the north border of Utah and Idaho lies one of the worlds most sought after fisheries.  As part of the Greater Yellowstone eco-system, east Idaho holds some of the world's finest trout streams and stillwaters which draw fly anglers from around the globe.
Kelly Glissmeyer will present a comprehensive program regarding many of the waters in this area; from Henry's Lake to Silver Creek and numerous destinations in between, come prepared to learn information that will guide you to and assist you in being more successful in your fly fishing endeavors in this area.
Kelly G. Glissmeyer has been involved in fly fishing and fly tying for more than four decades.  He began his passion while living in West Yellowstone, MT and has never looked back.  An accomplished demo fly tier with many effective patterns to his credit.  He participates in numerous fly-tying expos, fairs and conclaves throughout the western United States, as well as being a featured speaker and presenter at many western fly fishing venues.
In addition to fishing and tying, Mr. Glissmeyer has written numerous magazine articles in publications such as Flyfishing & Tying Journal and Fly Tyer magazines, along with the photos for those articles and is the past fly-tying editor Fly Fishers International (FFI) membership publication Flyfisher Magazine.  As a fly tier he has been featured in several western fly pattern books such as Bruce Staples' Flies for the Greater Yellowstone Area. He lives in Rigby, Idaho with his fly-fishing wife Cathy.  Mr. Glissmeyer can be reached at kggliss@hotmail.com