Time: Saturday 12:00 pm to 3:00 pm
Instructor: Carol Ann Morris
Cost: $25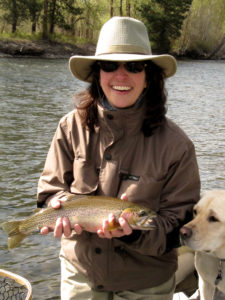 Description: It seems fly fishers want to record their biggest and most beautiful fish, the fascinating rivers and lakes and beaches they fish and explored—the very heart of their beloved sport—with a camera. During this class, Carol will teach you how to make your photos crisp and vivid, balanced and expressive.
Here's how the class proceeds:

  1. First hour: Keynote/PowerPoint presentation. This show is about 50 minutes long, and concentrates on the principals of design (color, composition, and light), and gives valuable insight into how to make your photos speak.

  2. Second hour: For about 45 minutes, we will go out on the show grounds and shoot using our own cameras. In the last hour, participants can have these photos critiqued. Download three photos (in jpeg) to a flash drive, and they will be discussed with the class in the third hour. As an alternative, bring three photos you've already shot (in jpegs on a flash drive) to the class for critique.

  3. Third hour: This is a critical part of the clinic, and where people learn the most…when they see their own photographs thru the process of a critique. Each participant can bring three photos to be critiqued with the class (in jpegs, on a flash drive). This is not about right and wrong, it is about defining and refining an image to make an impact, and why it works using the principles from the first hour. What you see, how you see it, and how you can excite your audience with your vision will be emphasized here.

BIO:

Over the past two decades Carol Ann Morris's photographs and paintings have not only appeared in most of her husband Skip Morris's 18 fly-fishing and -tying books but on the covers and interior pages of such magazines as Grey's Sporting Journal, Yale Angler's Journal, and Fly Fishing & Tying Journal. Carol also speaks at fly clubs and fly-fishing shows.

She has performed her PowerPoint show "Fly-Fishing Photography 101: How to Capture What You See" all over the West—in Washington, Oregon, British Columbia, California, New Mexico—and in the East—Michigan, Ohio—at fly-fishing clubs and sportsmen's shows and fly-fishing expositions.