Time: Saturday 7:30 am to 9:00 am
Instructor: Audrey Wilson
Cost: $50
Fly Casting Class for intermediate level casters (men & women): Improve your casting efficiency, accuracy, and distance
Take your fly casting to the next level and learn from one of the best fly casters in the country. Audrey is an accomplished competitor, and the only woman certified with Fly Fishers International (FFI) in Utah. She's recently joined the USA Women's Fly Casting team! Bring your own rod, reel, line, leader, and be ready for a fun learning experience! You'll walk away with knowledge for your next fishing adventure.
Accuracy: Stance, grip, arm position, and tips for on the water!
Efficiency: Energy application; learn the how and the when to apply your power in the most efficient way!
Distance: The subtle yet crucial tips to increasing your distance!
Bio: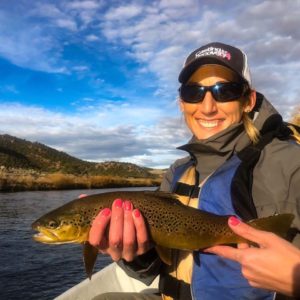 My life changed when fly fishing became a part of my world. I started fly fishing 13 years ago when I was absolutely inspired by the Green River, below Flaming Gorge Dam. When I close my eyes I can still envision that sunny day in a drift boat, casting my heart out with a big dry fly at the end of my line, and then seeing that beautiful cut-bow rise. I'm grateful for that day and a passion began that has not only grown, but has opened my world to other amazing experiences and people. I was inspired about 10 years ago, by known casting instructors and competitors. It was then I started my own competition and instructor journey. I didn't know much about it at the time, but I knew I wanted to be a part of it.
Nine years ago, I joined an amazing staff, the Casting for Recovery (CFR) Utah team. What better way to give back, be part of an amazing team, and make a difference all while carrying out my passion to fly fish. Nearly two years ago, I became the Utah Program Director for CFR-Utah.
Since starting my instructor and competition journey, I've successfully certified as a Casting Instructor with Fly Fishers International (FFI).I'm the first woman to certify in Utah.I've also become a successful fly-fishing competitor. My accomplishments include 1st place 2014 Utah Best of the West Fly Casting, 1st pace 2014 FFI Livingston Expo, 3rd place 2016 GroPro "2-Fly Xtreme" games, 1st place 2017 "Top-Gun" Wasatch Expo, 2nd place 2017 GoPro "2-Fly Xtreme" games, 1st place 2018 "Top-Gun" Wasatch Expo, 2nd place 2019 "Top Gun" Wasatch Expo, 1st place 2019 GroPro "2-Fly Xtreme" games, Silver medalist American Casting Association (ACA) Nationals.
Follow Audrey on Instagram at @audreyflygal1, and visit her new blogger site at www.audreyflycasting.com