Time: Friday 12:00 pm to 2:00 pm
Instructor: Phil Rowley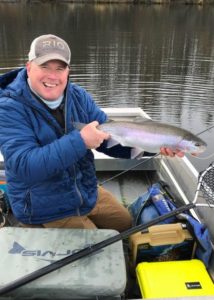 Cost: $25
Description:  Tired of just doing ok when you fish lakes? Then its time to take your stillwater fly-fishing skills to the next level. In this advanced stillwater seminar you will learn a variety of techniques and tactics intended to make your next outing as productive as possible. Listed below is a small sample of what you will learn.
Carry the right stuff, stillwater equipment choices including rods, lines, leaders and droppers.
Understanding the various and often-complex choice of fly lines available to the stillwater fly fisher and how to use them
How to read lakes
How to locate and target specific structure such as weed beds, drop off's and points Choosing the right fly
Tactics for when fishing is not going according to plan
How and when to use attractor techniques and patterns
Integrating the use of electronics
Loch style tactics and techniques • Common stillwater presentation mistakes and how to avoid them. And much more!